Marc S. Dobin
Attorney - Founder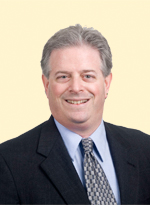 Bio
Marc S. Dobin was admitted to the Florida Bar in 1994. Mr. Dobin received his Bachelor of Arts from Franklin and Marshall College in 1982, and a Juris Doctor from New York Law School in 1986.

Mr. Dobin co-founded the law firm Dobin & Jenks, LLP in January of 1999. Prior to private practice, Mr. Dobin served as in-house litigator for Prudential Securities Incorporated in New York.

In January of 2003, Marc was appointed by the Town Council of Jupiter to serve as the Trustee of the town's Police Officers Pension Fund. He continues to hold this post today, as well as continuing his role as an industry arbitrator for FINRA, which includes the former National Association of Securities Dealers (NASD) and the New York Stock Exchange (NYSE). Marc has also represented parties in dispute resolution through the American Arbitration Association.

Mr. Dobin's litigation experience includes trying cases and providing representation in both state and federal court. Marc has litigated numerous disputes involving brokers and employing firms, brokerage firms and customers, and employment disputes such as employee raiding cases, partnership disputes and restrictive covenant and non-competition litigation.

Marc is often called upon to facilitate commercial transactions and employment separation agreements, and he enjoys his role as a mediator in securities and commercial disputes.

Marc's dispute resolution and litigation background has included such firms as Bank of America, A.G. Edwards & Sons (now Wells Fargo), Morgan Keegan & Co., Stifel Nicolaus & Co., TD Ameritrade, Delta Equity Services Corporation, Raymond James & Associates, CitiGroup Global Markets, Inc. (Smith Barney), International Assets Advisory Corporation, Acument Securities, Brookstreet Securities Corporation and Legend Equities Corporation.

Marc is an enjoyable speaker for professional and civic groups. He is always available to the media to speak about the securities industry, its rules, regulations. and goings-on. Marc has been a guest on the South Florida Business Report several times.

Education
J.D., New York Law School, 1986
B.A., Franklin and Marshall College, 1982
Jurisdictions Admitted to Practice
Florida, 1994
U.S. District Courts, Southern and Middle Districts of Florida, 1994
United States Court of Appeals for the Eleventh Circuit, 1994
Professional & Bar Association Memberships
Florida Bar Association
Palm Beach County Bar Association
AV Rated by Martindale Hubbell
Featured Cases and Matters
Federal Court Cases:
J.B.Oxford Holdings, INC. v. Net Trade, Inc.,
76 F. Supp. 2d 1363 (S.D. Fla. 1999) (dismissal of trademark infringement case on personal jurisdictional grounds for internet-based brokerage firm)
State Court Cases:


A.G. Edwards & Sons, Inc. v. Dublon,
948 So. 2d 915 (Fla. App. 4th DCA 2007)
(obtained reversal, in part, of denial of motion to compel arbitration)
Articles
"Appealing the Unappealable: Vacating Arbitration Awards," published by the Tort and Insurance Practice Section of the ABA
Panelist at the August 1995 ABA Annual Meeting, Tort and Insurance Practice Section, Chicago, Illinois, "Arbitration of Commercial Tort Claims- Is it the Answer?"
"Where is Podunk and Why are we being sued there?" published by the Florida Securities Dealers Association ("FSDA") in its newsletter, 2000
"Road Warrior's Journal," published by
Law Office Computing Magazine,
June/July 2002
"Finding Perfect Software" published by
Law Office Computing Magazine,
June 2003
Non-legal Activities
Vice-President and Registrar- Jupiter Tequesta Athletic Association, 2000-2005
Trustee, Town of Jupiter Police Officers' Retirement Trust, 2003 to present
Certified Public Pension Trustee, 2006 to present